Do you have a lifting application that requires a custom solution?
Our design and engineering team provides custom solutions to meet your more challenging lifting applications.
Our process:
Step 1: Application Evaluation
Step 2: Solution Design
Step 3: Design Test- we test our designs through digital simulation to ensure the accuracy
Step 4: Solution Integration
* Collaboration is of the utmost importance. At every step, all stakeholders are involved.
Custom services offered:
Prototyping
Finite Analysis
Destructive Testing
SpitzLift engineers work directly with vehicle manufacturers, shelving manufacturers, fleet leasing management companies, and up-fitters for seamless design integration and to deliver optimal lifting solutions.
* SpitzLift maintains customer confidentiality for projects that require non-disclosures.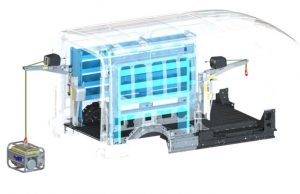 Call to speak with a SpitzLift application expert or get a quote.
Request a Quote | (619) 713-5061
Custom Lift Request