Product Warranty & Recertification Program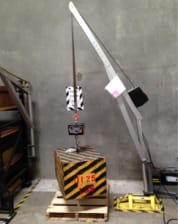 SpitzLift offers a three-year standard warranty on all our cranes.
AC/DC hoists and straps come with a one-year warranty.
The robust design of SpitzLift cranes makes certain our products have a long life cycle so the ROI that pays for itself multiple times. There are SpitzLift cranes in use today that have been in the field for over fifteen years without failure. This speaks to the exceptional engineering of our products and the high quality of the materials we use to build our cranes.

Recertification Program:
We recommend all SpitzLift cranes are recertified every 24 months to ensure SpitzLift equipment continues to function according to our specifications and continues to meet all safety standards.
Service includes:
Replacement of primary wearable parts
Inspection of structural components
Stress test conducted
SpitzLift provides all supporting recertification documents. Recertification extends the warranty of SpitzLift products another 2 years.
To start your recertification call 619-713-5074 or email orders@spitzlift.com.
To make certain that your products are OEM compliant within the 24* month re-certification window, contact us at orders@spitzlift.com.
*Based on type of usage, SpitzLift reserves the right to reduce the re-certification timeline.