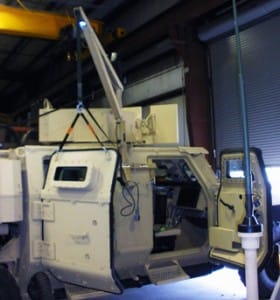 The military is the largest logistical infrastructure in the world. It is constantly on the move, and many of our soldiers are injured due to over exerting themselves trying to lift equipment.
The SpitzLift is lightweight, weighing only 40 lbs., and portable. It unfolds from a compact size quickly and easily, and has a load capacity of 900 lbs. The SpitzLift is incorporated with load control safety features, and is adaptable to any military vehicle.
With our experienced engineering and design teams, we are able to quickly adapt to different applications, while maintaining lightweight portability and quick assembly.