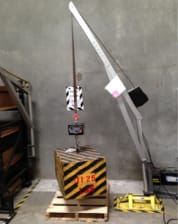 SpitzLift's robust design is proven to stand the test of time. The engineering behind the product is second to none. There are SpitzLift products in use today that have been in the field for over fifteen years without failure.
It is SpitzLift's desire to see to it that longevity of SpitzLifts continue to extend with an ROI that pays for itself multiple times. Our standard warranty is for two years superseding the normal product warranty of one year. We are able to offer this warranty because of the materials utilized.
Not only are they lightweight, but they are very durable in extreme environments. To ensure that SpitzLift equipment continues to function according to our specifications and safety factors, we require all SpitzLift cranes to go through a recertification test. As part of this service, all the primary wearable parts are replaced, all structural components are inspected and stress-tested. SpitzLift provides supporting documents of test and load and operation certificate. Not only does this ensure that the equipment is operating properly, but it also extends the warranty of the SpitzLift products.
The convenience of the lightweight design of SpitzLift makes it easy to ship to the SpitzLift-approved certification lab. To make certain that your products are OEM compliant within the 24* month re-certification window, contact us today.
*Based on type of usage, SpitzLift reserves the right to reduce the re-certification timeline.